Replacement Windows
Windows have come a long way since the days when single panes of glass were set into frames. These windows of yesterday offered very little insulation and thus were inefficient, drafty, and prone to condensation. New windows are much more energy efficient, thanks to technological advancements such as low-E coatings and gas-filled chambers. If you have a home over 20 years old that still has the original windows, replacement windows are in order. This is one investment that will reap a multitude of benefits. When it comes to home improvements and maintenance, home window replacement is at the top of the list.
Benefits of Upgrading Your Windows
Energy Savings
Glass is a poor insulator. Just place your hand near a single-pane of glass on a cold day and you will agree. With cold air being transferred into your home from the glass, your heater is working overtime to keep the house warm. On a hot day, the opposite is true. The air conditioner must compensate for the warm air coming in. Replacing windows will not only reduce energy loss, it will substantially reduce your monthly energy bill.
Peace and quiet
Sound vibrations from street noise, and the stereo next door, are also transferred through glass. This noise can get quite loud, especially if you are trying to get the baby down for a nap, or if you work the night shift and need to get some shut-eye during the day. Window replacement can make a big difference in insulating your home from unwanted outside sound vibrations.
Security and safety
Windows that are hard to open and close are a safety hazard in your home. Trapped moisture not only decays and warps window frames, it contributes to rusty latches and hardware making windows inoperable. Windows should open, close and latch securely, for everyone's safety. What's more, some insurance companies offer discounted premiums for homes with new windows.
Ventilation
Windows provide a direct means for air flow. In addition to creating air movement, opening a window helps ventilate odors, smoke, moisture, and heat. Double hung replacement windows make getting a little fresh air a breeze. In a double hung window, both panels move up and down allowing for ventilation on the top, bottom, or both.
Appearance
New windows go a long way in improving the aesthetics of your home, inside and out. Replacement windows add value to your home and can mean the difference between your home being perceived as run-down or well-kept.
Cleaning
Washing windows and getting them sparkling clean has always been a challenge, especially if the windows are not easily accessible. However, new window designs are changing that. Double hung replacement windows made with two operational panes, or sashes, that can easily be released to tilt in, enable you to easily clean the outside of the window, from the inside. This one feature has revolutionized the task of washing windows. Once you have tried it, you will wonder how you ever lived without this convenient feature.
What is a Thermal Pane Window?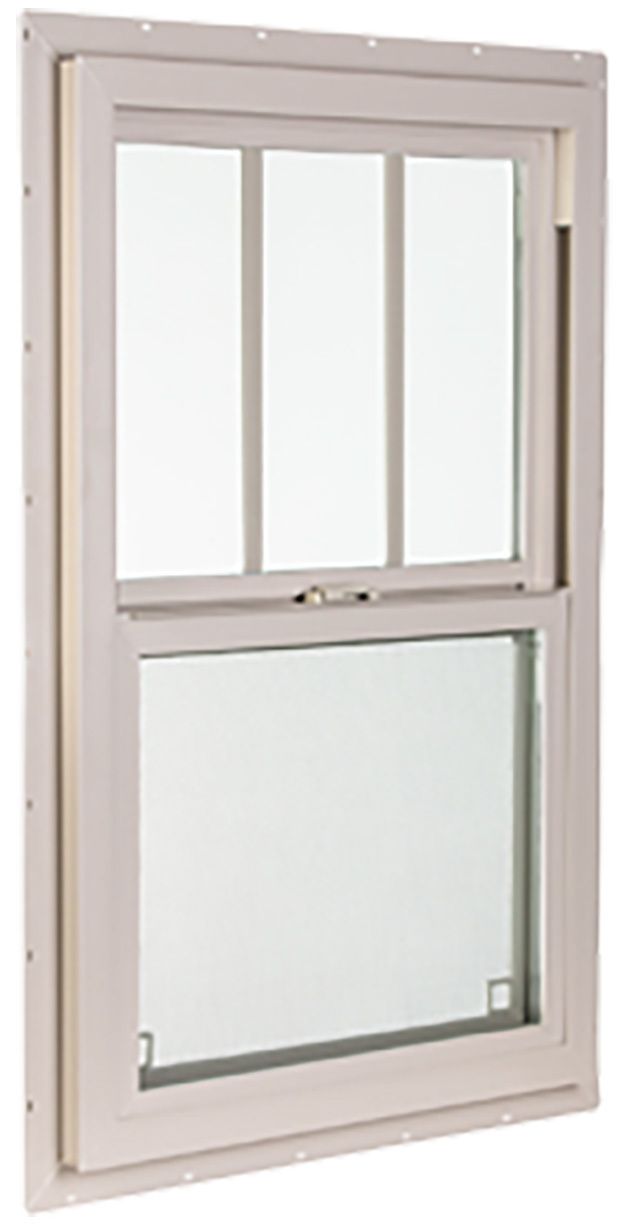 A thermal pane window is made up of multiple panes of high-performance glass. It also utilizes energy-saving features such as low-emissivity (low-E) glass, and gas-filled chambers. These and other attributes make replacement thermal windows exceptional when it comes to being energy efficient.
Low-E glass is a thin metallic coating deposited directly on the surface of the glass. The coating reduces the direct rays of the sun, which reduces heat transfer by as much as 65%. In addition to keeping the heat out in the summer, and the warm air in during the winter, low-E glass reduces the effect of harmful rays that can fade your carpet and furniture.
Gas-filled chambers refer to windows that have argon gas inserted between two panes of glass. Argon is an inexpensive, non-toxic and odorless gas with a density that makes it heavier than oxygen, thus a better insulator. It also prevents frost from occurring at the bottom of the window.
Measuring for Replacement Windows
Replacement windows are made to fit into existing window openings. Measuring the rough opening is a fairly simple process consisting of the height, width, and depth of the opening. Typically, the new window must be 1/2 to 3/4 inches smaller than the opening. It is also important to note how the windows open.
Installing Replacement Windows
If the existing frames are in good condition, a slightly smaller insert replacement can easily be set inside the opening and fastened to the side jambs. However, if the old window frame, sill, or jams are rotted, it will be necessary to install a full-frame replacement window. This will require stripping the opening down to its rough framing. Contact us for help in determining what type of replacement windows you will need.
How Much Will Replacement Windows Cost?
 Replacement window prices vary depending on several factors such as style, material, frame, and energy performance. On an average, window replacement can cost anywhere from $175 to $700 per window. This is assuming that the window frame is structurally sound. High-end windows go up from there into the $800 to $1200 range. With all the house window replacement companies out there and the different options available, choosing the right windows can be a daunting task. However, if you know what to look for, affordable replacement windows can be found. So before we continue, let's go over the different parts of a window and a few of the available options. Keep in mind that just because a window is expensive does not necessarily mean it is the best choice.


The Parts of a Window
1.  Frame - The frame provides the structure for the window. Frames can be made from materials such as aluminum, wood, wood-composite, vinyl, or fiberglass.
2.  Cladding - The cladding protects the outside of a wood or composite window and eliminates the need for painting. Cladding can be made of vinyl, aluminum, or fiberglass.
3.  Sash - The sash is the part of the window that holds the glass. It fits inside the window frame and can be movable or fixed.
4.  Insulated Glass - Insulated glass refers to windows with two or more panes of glass with an insulating air space between.
5.  Low E Coating - In warmer climates, Low-E coating is applied to the outside of window panes to keep the radiant heat from the sun on the same side of the glass from which it originated. In colder areas, it's applied to the inside glass to keep heat in. Low-E coating is transparent and reduces the amount of ultraviolet light that enters your home, without blocking visible light.
6.  Grids - Grids are often times used for decorative purposes to divide the glass into sections referred to as lights. The grid simply snaps into place over the glass and is easily removed for cleaning purposes. In thermal-insulated windows, the grids are typically mounted between the two panes of glass.
7.  Style and operating mechanism. This refers to how the window opens and closes, which we will discuss in further detail.
Replacement Window Styles
The least expensive windows come in standard sizes. Custom sized windows will cost significantly more and increase the time-frame of your project. Some of the replacement window style options available are single hung or double hung windows, casement or awning windows, sliders and picture windows. Below are basic descriptions of these window styles and the approximate price ranges for each. *pricing sources:
www.homeadvisor.com
&
www.angieslist.com
Single Hung windows have one moving sash and one stationary sash. $175-$350
Double Hung windows have two moving sashes which allow for better ventilation. $300-$800
Casement windows are hinged on the side and open out to the right or left. $275-$750
Slider windows have two sashes, one that slides horizontally over the other. $325-$1200
Picture Windows are non-operational windows with a large surface of glass to take advantage of an unobstructed view. Prices vary according to size.
Replacement Window Material
Once you have decided on the style of window you want the next step is to determine the type of material. If you are not planning on replacing all the windows in your home you will want to match the replacement windows as close as possible to the windows you currently have. Here are a few pros and cons of different materials that are typically used for windows.
Aluminum - Aluminum replacement windows are known for their durability and resistance to outside weather elements. They also offer a very clean and contemporary look. The downside is that they are not as energy efficient as vinyl. $
Vinyl - Vinyl replacement windows are one of the most common types of windows. They are cost-effective, low-maintenance (won't crack, peel or fade), simple to install, and available in many standard sizes. Vinyl windows cannot be painted and the color choices are limited. Vinyl also contracts and expands with changing temperatures which can negatively affect the seal. $$
Wood - Wood replacement windows are not only strong and beautiful but energy efficient due to the natural insulating properties of wood. In order to protect them from the elements, they must be painted or stained periodically. By cladding the exterior surfaces with vinyl or aluminum, a tough, maintenance-free exterior can be achieved. However, this also means they are more expensive than other options. $$$
Fiberglass - Fiberglass is stronger than vinyl and less likely to be affected by fluctuations in temperature. Fiberglass windows insulate well and are maintenance free. They can be easily painted if you want to change your color scheme. Unfortunately, fiberglass windows are usually quite expensive, often in the same price range as high-end wood windows. $$$
Composite - Composite replacement windows offer the strength and stability of wood with the durability, rot resistance and low maintenance of vinyl. Some composite windows contain up to 40 percent wood fibers. These high-performing windows are generally found on the mid-range to upper-end of the price scale. $$$
Labels, Numbers, and Ratings
When shopping for residential replacement windows it is important to know what the numbers and ratings typically found on window labels mean. Here is a quick rundown.
R-Value - the higher the R-value the better. This rating determines how well the window keeps the outside temperatures out and the inside temperatures comfortable.
U-Value - the lower the U-value (or U-factor) the better. It measures the rate of heat transfer. These numbers usually range from .20 to 1.20.
Solar gain - the higher the number, the greater the heat gain. Solar heat gain coefficient, or SHGC, indicates how much heat penetrates the glass when the sun is shining. A high number can be a good thing when it is cold outside, but during the summer, it will mean your air conditioner is working overtime. This is where low-E glass comes into the picture. Low-E glass can result in a solar heat gain reduction of as much as 70% over regular insulated glass by blocking the entire solar spectrum. The SHGC ranges from 0 to 1. In warm climates, you will want the lowest number and the opposite for cold climates.
Wind resistance - the lower the numbers, the better the seal.
It is important to match your windows to your climate. In Tennessee and Alabama, the u-factor should be .40 or lower and the Solar Gain should be .55 or lower for Tennessee and .40 or lower for Alabama.
Options, Options, Options
From tilt-out window sashes and built-in window shades to high-performance impact resistance and triple-pane glass, house window replacement options are endless. Although there are some fantastic options available, know that they can increase the cost of a window by as much as 50%.
Residential window replacement doesn't have to be hard, it is just a matter of being informed. In recent years, advancements in energy-efficient technology have made windows better than ever. According to
Energy Star
, replacing single-paned windows with Energy Star certified windows can reduce your energy bill 20 to 31%. There is also a significant savings of 8-14% when replacing typical clear-glass double-paned windows with ENERGY STAR replacement windows.
Whether you are wanting to improve your home's appearance, make your home more comfortable, or save money on monthly energy costs, upgrading your windows is one investment that will bring big returns.
Give us a call at (931) 210-6931
, if you have any questions about replacement windows. Whether it is taking measurements or selecting what type of windows you need, our friendly and knowledgeable staff will be happy to walk you through the process. 
Have a Question or Need a Quick Estimate? Let's Get in Touch!